(working title only)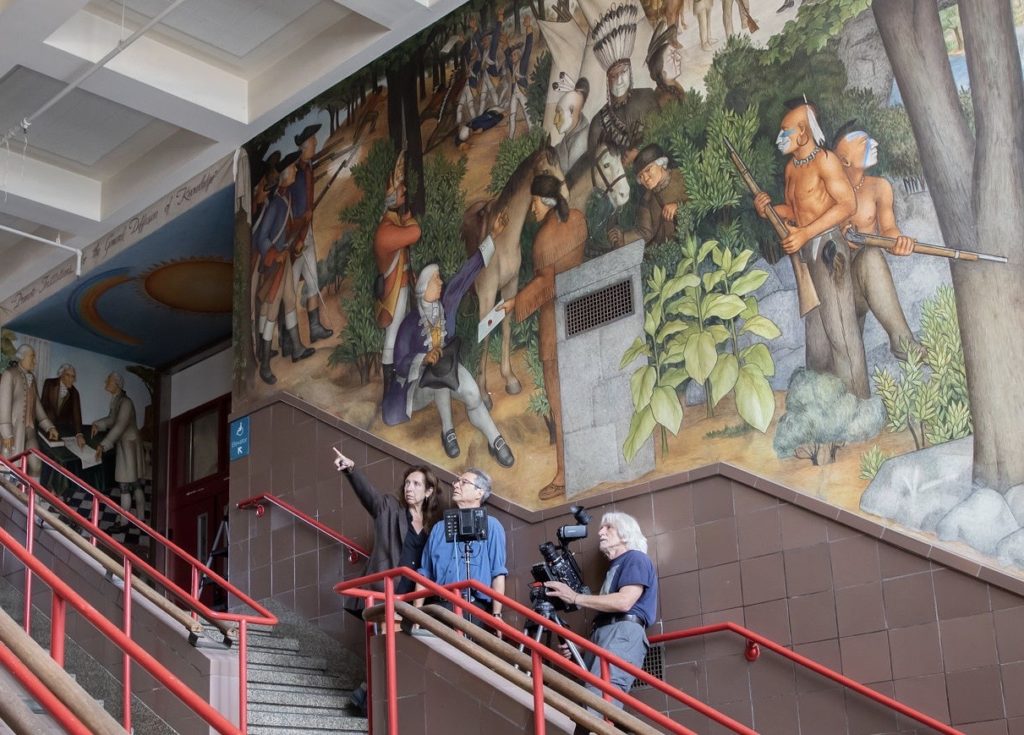 What does this country owe people who have been historically wronged?
How should we teach American history?
How does a changing society deal with controversial works of art?
These are some of the questions we are addressing in our new feature length documentary film about the recent controversy over Depression-era murals at San Francisco's George Washington High School.
The conflict began when Native American critics of the "Life of Washington" murals demanded they be painted over because they include a life-size corpse of a dead Indian and images of Indian warriors with scalps in their belts. The critics said these are racist stereotypes even if radical artist Victor Arnautoff intended the murals as a critique of Washington's participation in genocide against Native peoples. They want an end to the harmful school tradition of students saying "Meet me under the dead Indian."
Defenders of the murals assert that the artist's intentions do matter and that the murals represent the real history of this country. They want the school to "teach the murals" as part of the curriculum. Covering the murals, they said, would be "identity politics gone off the rails" and an act of reprehensible censorship against a leftwing artist who studied with Diego Rivera.
Heated debates over the future of the murals spilled into the community and the national press, and there were near riots at hearings and forums throughout the city. The fight – taking place in the wake of battles over Confederate monuments across the U.S. – has become the catalyst for a national discussion about the meaning of reparations, the obstacles to progressive coalition-building, the issues of generational trauma and identity politics, and the ways in which America's history of genocide and slavery is taught and memorialized. As Roxanne Dunbar Ortiz asks in An Indigenous Peoples' History of the United States, "How might acknowledging the reality of US history work to transform society?"
Help us make this film:
Contributions of any size are welcome and will be acknowledged. Make checks payable to "Snitow-Kaufman Productions" and send to: Snitow-Kaufman Productions, P.O. Box 7402, Berkeley, CA 94707.